Get Involved in your Community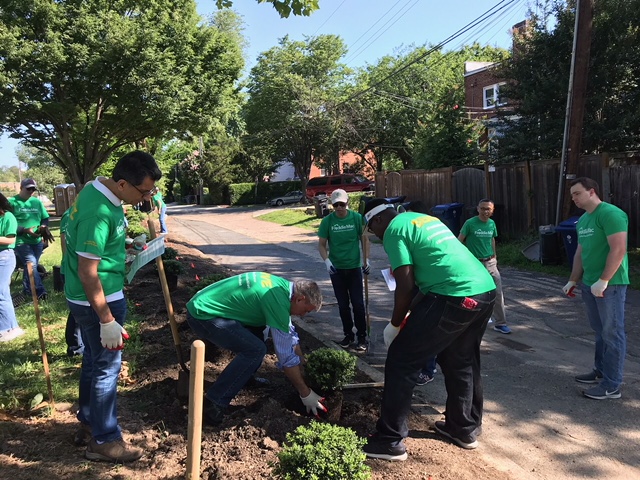 Are you planning to return to work and need to rebuild and strengthen the team? Giving back to the community and helping out is a great way to do so. Staff will have the opportunity to be and work together in a safe way, while supporting our community. Activities are based on community needs and availabilities of the team. Volunteer Alexandria can help your business contribute to your community through volunteerism. Following are a variety of programs/events to accomplish that. Downnload the Get involved in our Programs and Events 2021-2022.
Want to do a team builder? Business Connections will help you. Meet pressing needs in your community while strengthening your business by engaging employees in community service. Let us help you shape your program and goals. Our fee-for-service program offers employee engagement opportunities throughout Alexandria. We are the "wedding planner" for your event, providing any materials, equipment or uniforms needed. We also take care of all logistics. All you need do is show up. Read more details.

Board Placement - We can help employees interested in joining a nonprofit board. We interview them, provide options according to their skills and advise them what to consider before becoming a board member. Email Marion Brunken to learn more.
A Day of Service - SERVEa-thon is a city-wide day matching volunteers with the needs of nonprofit organizations. It's a great way to meet business colleagues and peers, while working together to help your community. Hundreds of volunteers paint, landscape, build vegetable beds, deliver meals and much more. Read more online.
Emergency Preparedness - We share information about how to prepare your business for emergencies, help you create a Continuity of Operations Plan, and train staff to be ready in an emergency. We also conduct "Until Help Arrives" trainings. For more details, e-mail us.
Contact us to discuss other innovated ways to be involved, from skills-based to pro-bono services or a hands-on one day project.
"We love to support Volunteer Alexandria. They do an outstanding job coordinating and recruiting volunteers to assist with many needed projects throughout the City!" Don Simpson, Jr., President, Simpson Development Co., Inc.
---
Thank you to our Supporters and Foundations who donated!
Click HERE to view a list