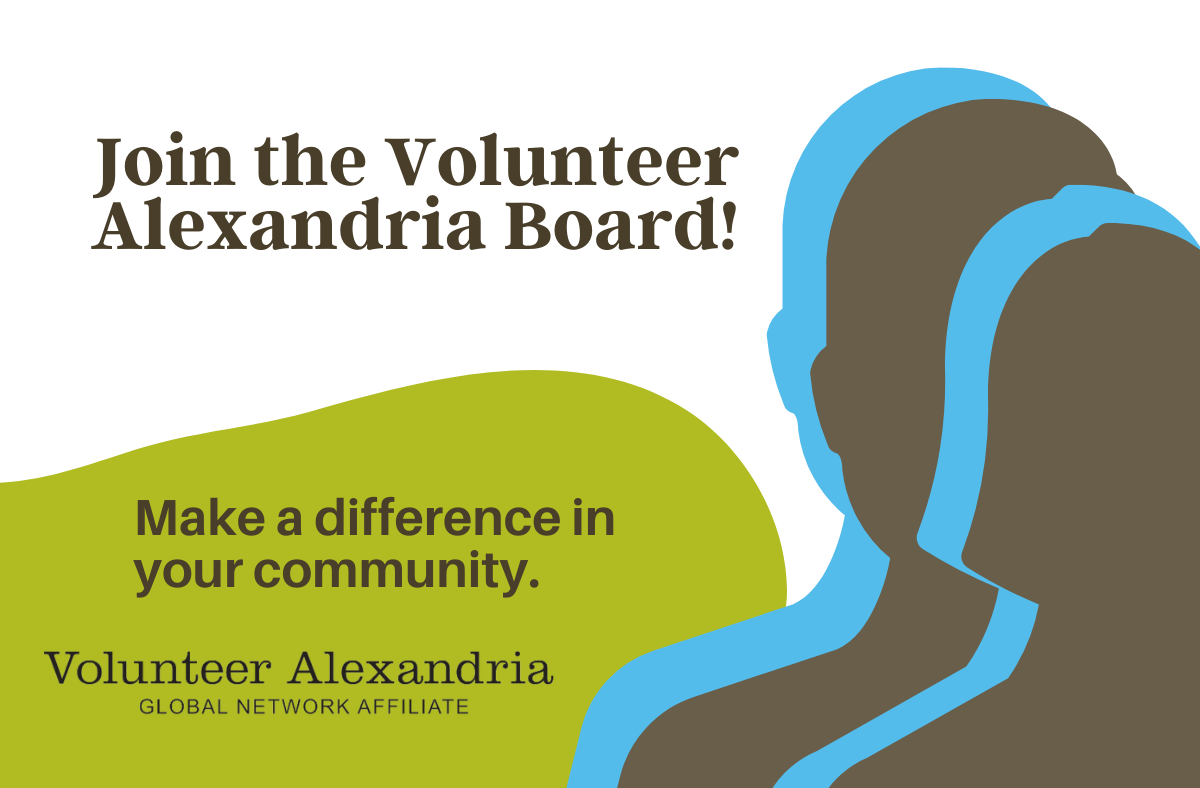 Career Opportunities with Volunteer Alexandria - Come join our team!
Joining our team has many benefits. Help Volunteer Alexandria to be great so we can help those in need. We are seeking people who are passionate about our mission and have time to help. There are non-paid positions open: Board Members and Development Committee Members.
Volunteer Board Positions, non-paid: Volunteer Alexandria (VolALX) is seeking new board members of civic engagement, finance, corporate giving, and/or major gifts. This is an opportunity to give back to the Alexandria community, meet an engaged group of people with a diverse set of talents, skills, and backgrounds, while making a difference. If you are highly motivated, energized, believe in civic engagement, and are willing to work on becoming an antiracist organization, please consider joining our team.
We ask that potential members learn about racism and racial equity before joining our board. The Board and staff are committed to examine the ways our organization perpetuates racism, bias and discrimination at the interpersonal, institutional, and systemic levels and take steps to change our behaviors, practices, and policies. This includes taking responsibility for learning about and understanding the impact of systemic and institutional racism in our community.
Election to the Board of Directors of VolALX brings with it the responsibility of trusteeship. It calls upon the person elected to dedicate time, thought and energy as well as financial support toward the viability and progress of the organization. Each board member is asked to:
Attend the six Board Meetings during the fiscal year.
Attend Training and Planning Sessions. Board members need to be knowledgeable about the responsibilities and concerns of the board. Participation on board orientations and strategic planning sessions is expected members.
Actively Participate in Committee Work. The work of the Board is accomplished, for the most part, in committees (Executive, Development, Finance, and Nominating) and members serve on at least one.
Be an Ambassador. Share your enthusiasm about civic engagement and attend special events, programs and other activities for the benefit and promotion of the agency. Each board member is a natural advocate of the work and should take every appropriate opportunity to increase public awareness of the organization's contribution to Alexandria.
Personally Support Volunteer Alexandria. Board members set a leadership example by making individual financial contributions to VolAlex.
Be Active Fundraisers. The financial stability of VolAlex depends on contributions from private individuals, community funds, corporations and government funding. Board members are expected to identify potential donors, actively solicit contributors or participate in some meaningful way to the fund raising efforts of the board. Each member is responsible to raise and/or contribute (Give & Get) a total of $1,500.
Register ONLINE or email the Executive Director, Marion Brunken at mbrunken@volunteeralexandria.org.
Development Committee Volunteer non-paid Positions: Support Volunteer Alexandria staff and the Board of Directors in fundraising efforts. The Development Committee is responsible for creating and executing an annual fundraising plan in partnership with the Executive Director; Solicit sponsorships for Volunteer Alexandria; Provide recommendations on the fundraising/budgetary goals proposed by staff; Evaluate previous year's fundraising strategy and contribute ideas for next year's strategy; Evaluate special events for return on investment, lessons learned, and results; Brainstorm potential sponsors both locally and nationally; Make connections between potential donors and sponsors and Volunteer Alexandria; and provide recommendations and encourage board involvement in fundraising. Register online or contact Executive Director, Marion Brunken at mbrunken@volunteeralexandria.org.
AAP/EEO Statement
Volunteer Alexandria provides equal employment opportunities (EEO) to all employees and applicants for employment without regard to race, color, religion, sex, national origin, age, disability or genetics. In addition to federal law requirements, Volunteer Alexandria complies with applicable state and local laws governing nondiscrimination in employment in every location in which the company has facilities. This policy applies to all terms and conditions of employment, including recruiting, hiring, placement, promotion, termination, layoff, recall, transfer, leaves of absence, compensation and training.

Volunteer Alexandria expressly prohibits any form of workplace harassment based on race, color, religion, gender, sexual orientation, gender identity or expression, national origin, age, genetic information, disability, or veteran status. Improper interference with the ability of Volunteer Alexandria's employees to perform their job duties may result in discipline up to and including discharge.