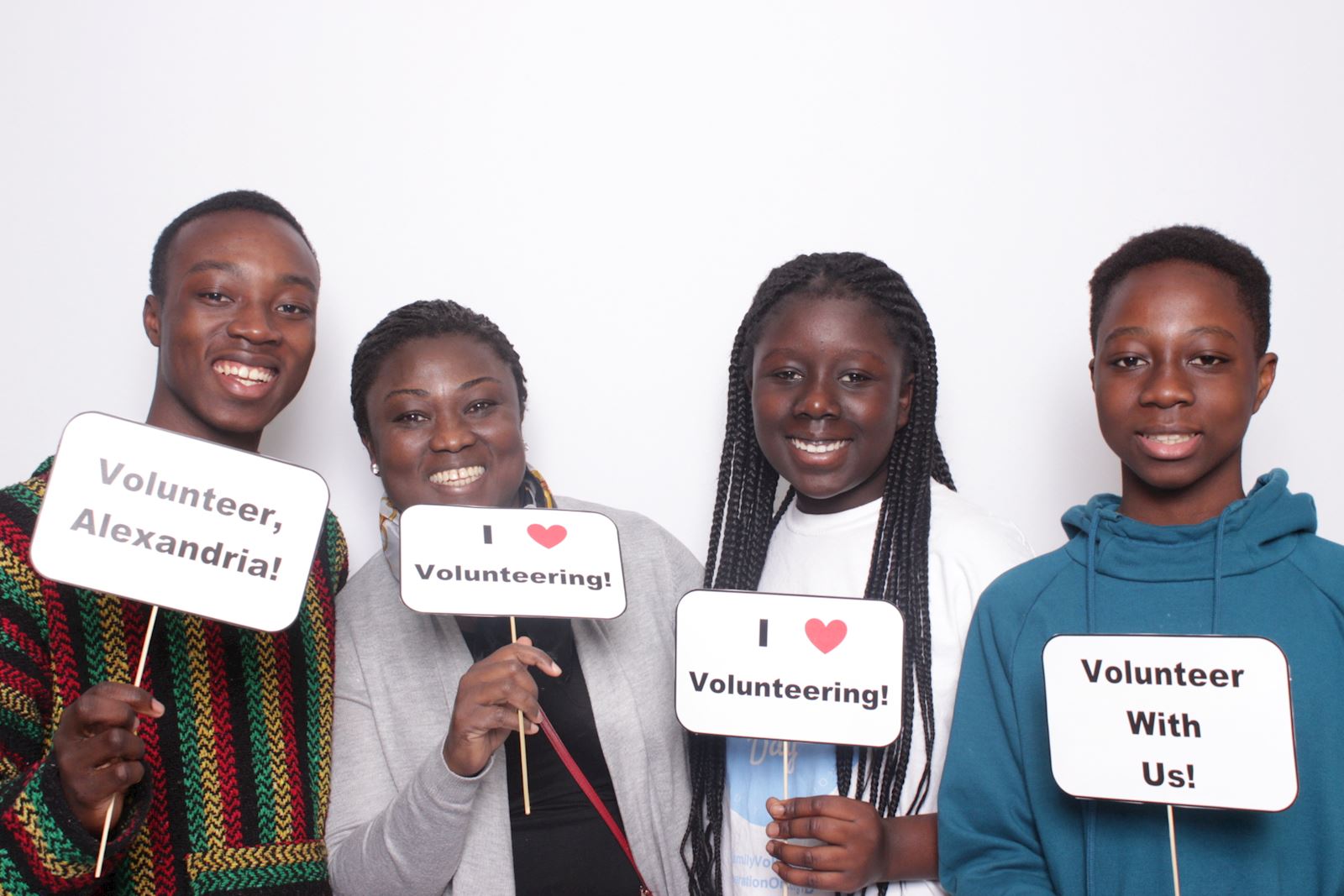 Young people are our next generation of philanthropists. Volunteer Alexandria's youth and family volunteer program promotes civic responsibility and recognizes community service. Whether your family is one parent/guardian and one child or an extended family, families engaged in service frequently develop a lifelong commitment to volunteering.
Our goal is for children, ages 6 to 18, to become involved in their community. We create projects for youth as young as six years old. Help us engage them in volunteering! Check out what Mitchell and Claire have to say about their volunteer experience.
Make an investment to support family volunteering by donating $25 or more. Make a donation today!
Sign up HERE to receive the Youth & Family Newsletter, which includes opportunities for children, teens, and families.
Current Volunteer Opportunities for Youth
We offer middle and high school students a service-learning program during school breaks called Breaks With Impact. Learn more about this program HERE.
6 and older:
Help Pick Up Litter - The Trash Trekkers will meet on Saturday, October 1 from 10 to 11 a.m. to pick up trash at the Kate Waller Barrett Branch Library. Equipment will be provided. Click HERE to sign up.
12 and older:
Help Dogs Get Adopted - The Lucky Dog Animal Rescue needs dog handlers, drivers, and advocates to talk up dogs to potential adopters on Sunday, October 2 between 11:15 a.m. and 3:30 p.m. Anyone between 12 and 17 years old must be accompanied by an adult. Click HERE to sign-up.
The Library Wants to Hear from You! Provide much needed input for the Library during their monthly Teen Advisory Group meeting on Thursday, October 13 from 6:30 to 7:30 p.m. at Beatley Library. Participants will receive 1 service hour. Snacks provided. Click HERE to sign-up.
ASCEND Alexandria is looking for volunteers to help combat climate change. They are looking for students to either help volunteer or be in a leadership role. ASCEND leads park clean-ups, DIY activities, and environmental awareness campaigns. Click HERE to sign-up. Check out the ASCEND webpage for more information.
14 and older:
Help with Children's Activities at Art on the Avenue - Art on the Avenue, Del Ray's annual music and art festival on Saturday, October 1st, needs volunteers to help children paint pumpkins and build scarecrows. Must be 14 years old or older. Click HERE to sign up.
Become a Youth Ambassador - The City of Alexandria is looking for Youth Ambassadors to engage other youth in conversations that will lead to better outcomes for students. Youth Ambassadors will provide recommendations to city officials on issues such as promoting positive mental health and reducing violence. Click HERE to fill out an interest form. If you have more questions, please contact Noraine Buttar at noraine.buttar@alexandriava.gov.
Share Your Views on Gangs and Fighting - The City of Alexandria Gang Task Force is looking for two students who can share their opinions and points of view on gangs, crews, youth fights, and criminal activities. The task force meets once a month in October, January, March, and May at 6pm at various locations. If interested, contact Percy White at percy.white@alexandriava.gov or call 703-919-3906.
16 and older:
Sort Donations at UpCycle (click here to sign-up). Sort and prepare donations, shelve them, and maintain the overall organization of the shop at UpCycle. 5/28
View a list of additional organizations, who may have opportunities available.
---
Top Six Reasons Why Children Should Volunteer:
1 – Children develop compassion as they learn the value of giving to others. They learn to appreciate what they have and learn to work with others.
2 – Volunteering encourages children to do things at which they excel, as well as things they'd like to learn. Moving beyond their comfort zone helps build self-confidence.
3 – Children discover inner strengths and life skills by volunteering. Teamwork, tolerance and problem-solving help them cope with daily challenges in their own lives.
4 – Children learn how to be a valued member of their community. Growing up with a greater sense of social responsibility makes them more likely to volunteer throughout their lives.
5 – Volunteering gives kids the chance to meet people from different backgrounds and to make new friends. It enhances their emotional development, fostering socializing and communication.
6 – Volunteering shows the next generation how to be what Mahatma Gandhi said was to "Be the change they wish to see in the world."
---
The following agencies accept youth volunteers and young adults.
Search for
these agencies to view and register for a volunteer opportunity.
ALIVE | Church of Saint Clement

16 and older
City of Alexandria Parks & Recreation | Fly Minds Youth Development Club | Girls on the Run NOVA | The Child & Family Network Centers | Wright to Read

18 and older
Alexandria Tutoring Consortium | Boys and Girls Club | Communities in Schools of NOVA | Senior Services of Alexandria | The Campagna Center | The Alexandria Redevelopment & Housing Authority | Alexandria City Public Schools