Continuity of Operations Plan (COOP): Keeping Your Organization Functioning During an Emergency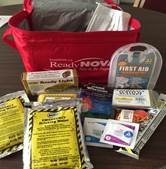 Ensuring your organization's continuity in the event of an emergency is vitally important to its longevity. Emergencies that can be devastating to your organization can be as basic as a local power outage and as severe as a regional hurricane. Thinking about and planning for all-hazards surrounding your organization will help keep you performing vital functions during a disaster.
Volunteer Alexandria conducts a series of COOP trainings for nonprofits to be better prepared and to resume service after a disaster. These trainings consist of how to develop, implement, and maintain a basic COOP plan.
Topics include: Identification of operations critical to survival; recovery strategies; and developing, testing, and exercising the plan.
If you would like to learn more about Continuity of Operations training opportunities, send email to emergencyresponse@volunteeralexandria.org or 703-836-2176
---
COOP Resources
Download your Business's Ready! plan toolkit

Ready NOVA
Visist Ready NOVA and build your plan, developed by local and state agencies. http://business.readynova.com.

Small Business Administration
The Small Business Association offers resources that can help you develop a plan to protect your employees, lessen the financial impact of disasters, and re-open your business quickly to support economic recovery in your community.
Federal Emergency Management Association (FEMA)