Age Minimum (with Adult): 6+, Minimum Age:6+
Make Bag Lunchesfor Local Homeless Shelters - Active Opportunity During COVID-19
Before you volunteer, please ensure:
- That you have you NOT been at any places and therefore exposed where people have tested positive for COVID-19? If so, do not volunteer.
- That you DO NOT exhibit any symptoms of a respiratory illness including fever, runny nose, sore throat, coughing or difficulty breathing now or in the past 14 days? If so, do not volunteer.

Can you make bag lunches for individuals experiencing homelessness? We need your help!
During the coronavirus pandemic, homeless shelters are considered essential services and New Hope Housing is open and ready to serve our areas most vulnerable neighbors. Because of the pandemic, many drop in centers that our community partners operate are closed. Because the services are still needed, New Hope Housing is opening our Bailey's Shelter and Kennedy Shelter as 'stop in centers', where homeless individuals can stop by, grab a bag lunch, do laundry, and meet with a case manager.
You can help support your most vulnerable neighbors by making bag lunches at home. This is great opportunity for anyone that wants to give back during this difficult time!
Volunteers must complete an application and phone orientation prior to making bag lunches. Please do not purchase items for the bag lunches or sandwiches without first talking to Sami!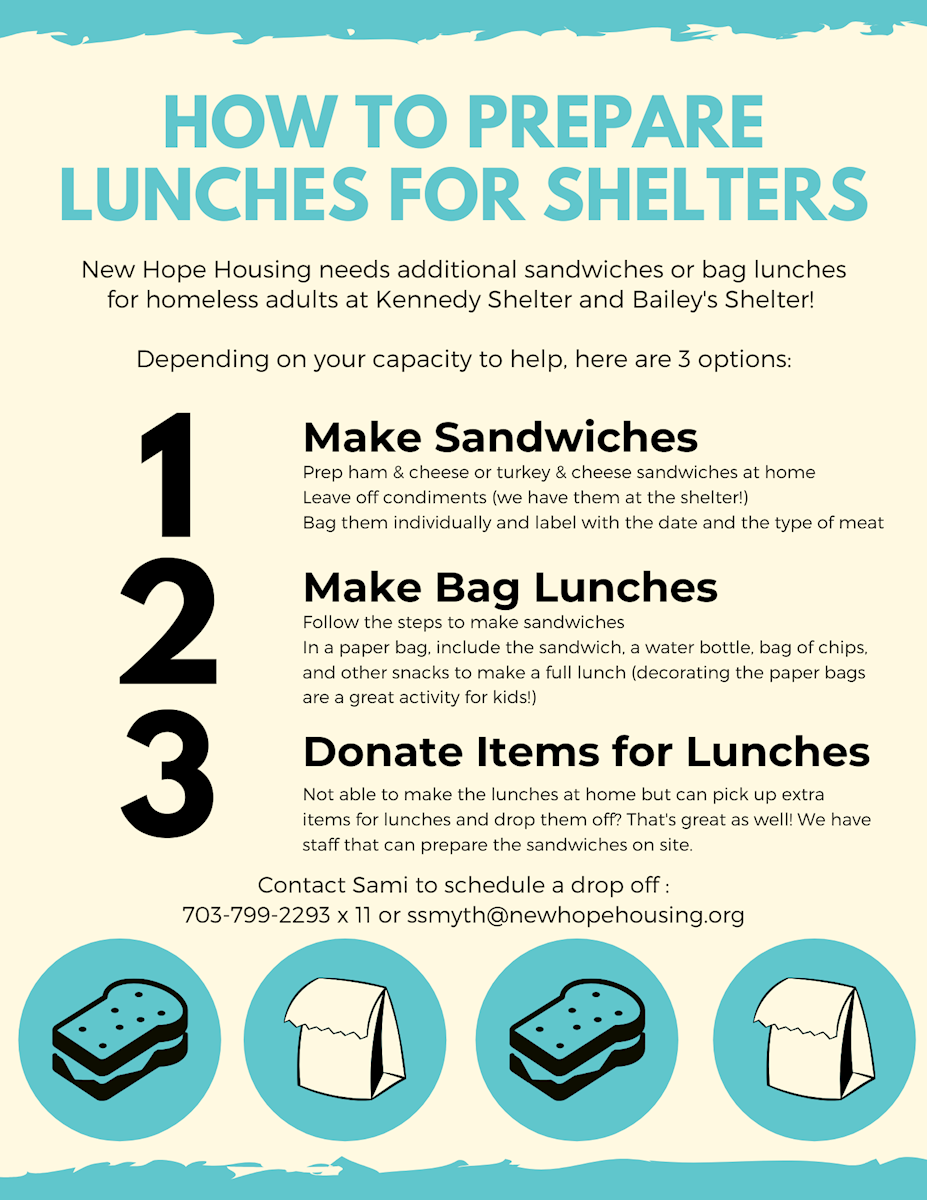 Please wait...
Log in or Register
In order to register for this opportunity you must log in to an existing account or register to create a new account.
Signup with team
This link allows you to participate in this opportunity with a team. When you click on the link you will have the option to:
Choose an existing team you're already a member or captain of, or
Create a new team to sign up.
Signup Questions
Please respond to the following questions in order to signup for this opportunity:
Please wait...
E-mail