Find a volunteer opportunity
Volunteer Alexandria inspires, mobilizes, and connects people, six years and older, to volunteer for a stronger Alexandria community. Our Volunteers are a powerful force for solving community problems, and are essential for a healthy, productive, and engaged community. Meet Volunteer Alexandria.
DISASTER ALERT: As Hurricane Ian approaches Florida and surrounding areas, we support the critical community preparation and recovery efforts of our fellow Points of Light affiliates that are impacted. Please do not self-deploy to aid in recovery efforts. Click HERE to view of list of local volunteer centers. We will keep you posted about their needs. Thank you.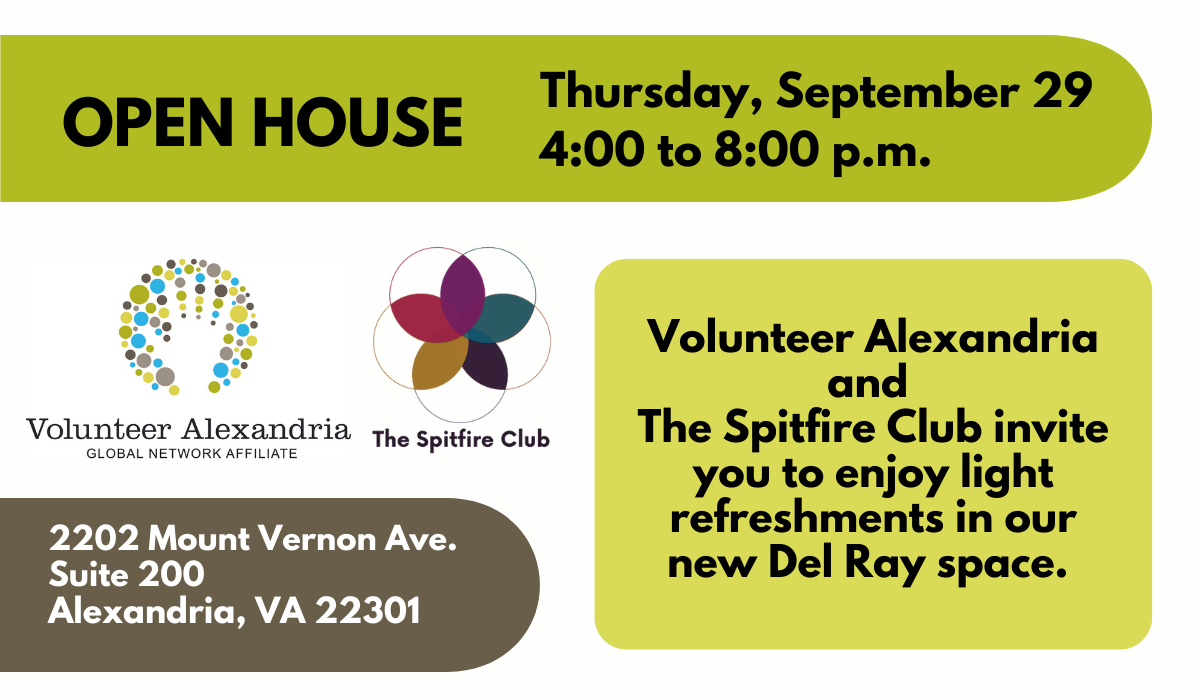 Your friends at Volunteer Alexandria and the Spitfire Club invite you to come and see our new space in Del Ray. The agencies are sharing office space and resources and would like to invite Alexandrians across the city to stop by Thursday, September 29 between 4 p.m. and 8 p.m.
While we are not offering an official program, we invited the Mayor and any of the Council members for the ribbon cutting and to say a few words around 5:45 p.m. All are welcome– young and older – to meet staff and volunteers, learn more about the agencies, and take part in supporting Alexandrians by dropping off a clean or new reusable grocery bag for agencies handing out groceries, and donating children's books.
The event is sponsored by the CommonWealth One FCU and supported by Pork Barrel BBQ, Matt & Tony's, and Cheesetique.
Please wait...
Upcoming Projects
Contact
2202 Mount Vernon Ave., Suite 200