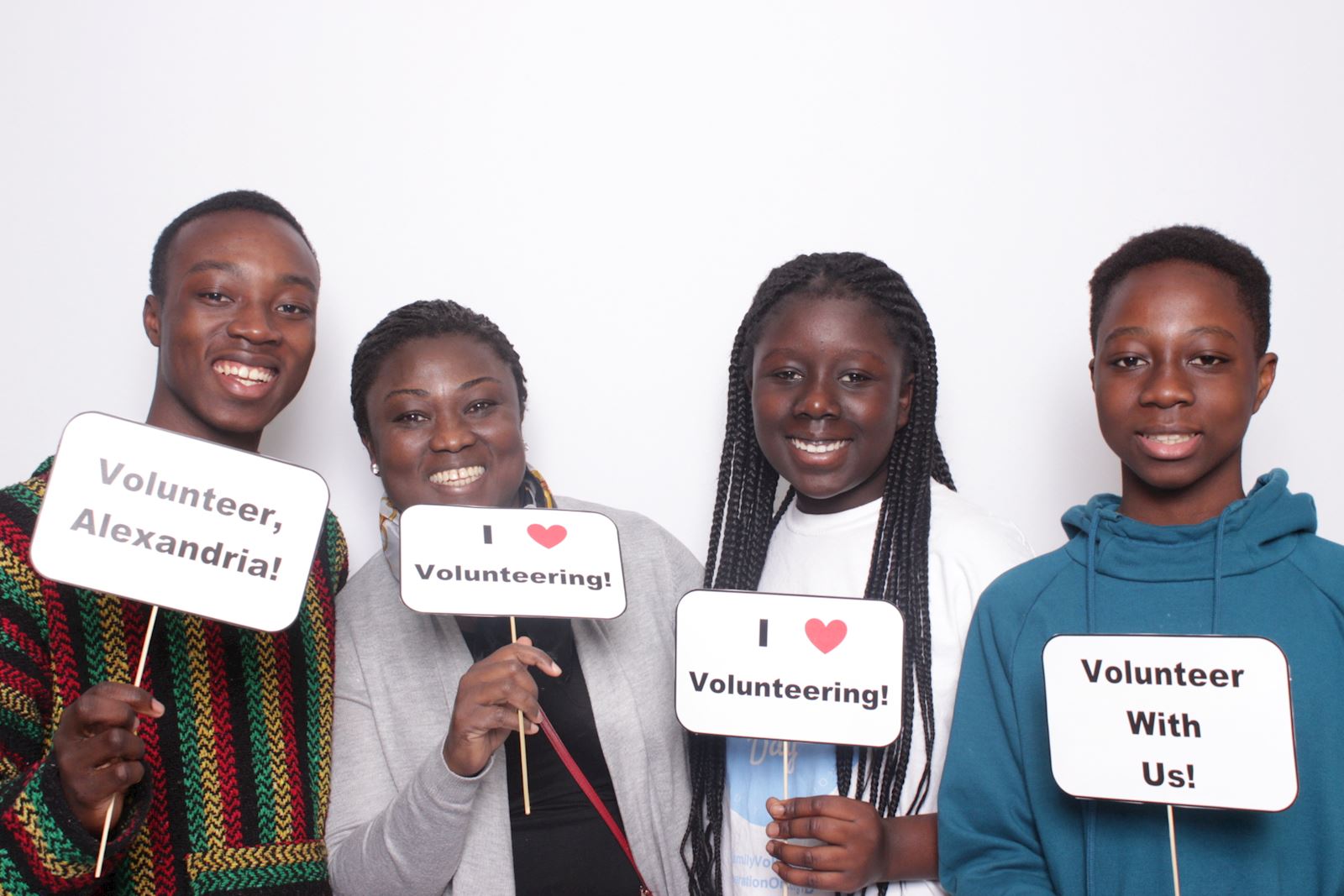 Young people are our next generation of philanthropists. Volunteer Alexandria's youth and family volunteer program promotes civic responsibility and recognizes community service. Whether your family is one parent/guardian and one child or an extended family, families engaged in service frequently develop a lifelong commitment to volunteering.
Our goal is for children, ages 6 to18, to become involved in their community. We create projects for youth as young as six years old. Help us engage them in volunteering! Make an investment to support family volunteering by donating $25 or more. Make a donation today! Check out what Mitchell and Claire have to say about their volunteer experience. We offer middle and high school students a service-learning program during school breaks called Breaks With Impact. Learn more about this program HERE.
Volunteers shed a light through a dark time and helped a senior feel connected
Every year, volunteerism is celebrated by individuals, friends, and family on Make A Difference Day and while our projects had to be separated by time and space due to COVID-19, families and individuals were still able to make a difference no matter how small or large.
"I felt that this program was safe and that it provided the chance to spend time with my daughter while helping spread holiday cheer to elderly members of the Alexandria community."
Volunteers had the opportunity to make a difference at home or in person. One project, Creating a Wreath for a Senior, was made possible through the donations from participating families and individuals. 9 families, a Girl Scout Troop, a classroom of students, and four individuals participated in this project.
Everyone got to add their own creativity and a little bit of elbow grease to create each wreath from the material kit of recyclable and reusable materials. The efforts from the volunteers shed a light through a dark time and helped a senior feel connected with the community during this difficult time of isolation. Each wreath was safely delivered to the seniors who are a part of the Friendly Visitor Program at Senior Services Alexandria.

TOP SIX REASONS WHY CHILDREN SHOULD VOLUNTEER:
1 – Children develop compassion as they learn the value of giving to others. They learn to appreciate what they have and learn to work with others.
2 – Volunteering encourages children to do things at which they excel, as well as things they'd like to learn. Moving beyond their comfort zone helps build self-confidence.
3 – Children discover inner strengths and life skills by volunteering. Teamwork, tolerance and problem-solving help them cope with daily challenges in their own lives.
4 – Children learn how to be a valued member of their community. Growing up with a greater sense of social responsibility makes them more likely to volunteer throughout their lives.
5 – Volunteering gives kids the chance to meet people from different backgrounds and to make new friends. It enhances their emotional development, fostering socializing and communication.
6 – Volunteering shows the next generation how to be what Mahatma Gandhi said was to "Be the change they wish to see in the world."
YES, I will

financially support

youth and family volunteering! Funds will be used to purchase project materials.


Watch

the Family Volunteer Day Video

The following agencies accept youth volunteers and young adults.

Search for

these agencies to view and register for a volunteer opportunity.

Volunteer Alexandria (6+)
ALIVE (12+)
Church of Saint Clement (12+)
Restore Alexandria (12+)

Back on my Feet (14+)

City of Alexandria Parks & Recreation (16+)
Fly Minds Youth Development Club (16+)
Girls on the Run NOVA (16+)
The Child & Family Network Centers (16+)
Wright to Read (16+)

Alexandria Tutoring Consortium (18+)
Boys and Girls Club (18+)
Communities in Schools of NOVA (18+)

Senior Services of Alexandria (18+)
The Campagna Center (18+)
The Alexandria Redevelopment & Housing Authority (18+)
Threshold Singers of Washington DC (18+)
William Ramsey Elementary School (18+)