Outreach & Events
Learn more about Active Shooter Response Training.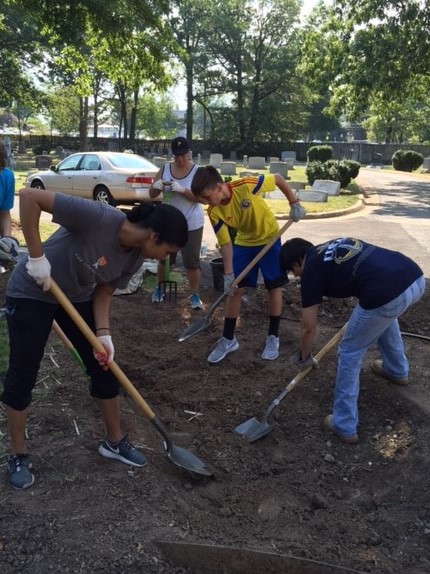 Psychological First Aid Training
Atlantic Fury Full Scale Exercise
Martin Luther King Day of Service Project
Monday, January 15th, 2018
Life's most persistent and urgent question is, 'What are you doing for others?
Volunteers Get Alexandria Ready for an Emergency
On Martin Luther King Day, 50 volunteers assembled and distributed 450 emergency preparedness informational kits to residents of Foxchase Apartments. The collection of youth volunteers, RSVP volunteers, and community members started the day by learning how to prepare for all kinds of emergencies. Instructors, Ioana Lutai with Volunteer Alexandria and Jessica Adams from The Red Cross, emphasized the importance of being prepared and explained small steps that everyone should take.
Groups of volunteers worked for two hours on the kits. Activities included writing lists of items that could go in your personal go-kits on index cards, printing and copying materials, translating instructions into Spanish, and assembling the kits.
Volunteers visited Foxchase to distribute the bags to residents. Residents appreciated receiving the informational kits, especially the bilingual English-Spanish materials. In one day, 450 area families and 50 volunteers learned how to better prepare for disasters.
Rev. Collins Asonye from Meade Memorial Church said "I didn't know how important it is to be prepared until I listened to Ioana and Jessica. I will definitely meet with my family to discuss and make an emergency plan. I will also invite Ioana to educate my parishioners and board. Through the project, I made friends and some people visited my church. It was worth the time!"
The activity was coordinated by Volunteer Alexandria in collaboration with the Red Cross, MRC (Medical Reserve Corp.)
Volunteer Reception Center Orientation
Thursday, January 11th, 2018

In a time of disaster, Alexandria's Office of Emergency Management will notify Volunteer Alexandria to activate a Volunteer Reception Center (VRC), a place where spontaneous volunteers get registered, screened, and deployed to affected disaster areas. The Orientation will give volunteers the opportunity to learn about various positions within VRC and the opportunity to sign up and get trained. Register today.