MLK Day Monday, Jan. 17 – a day on, not a day off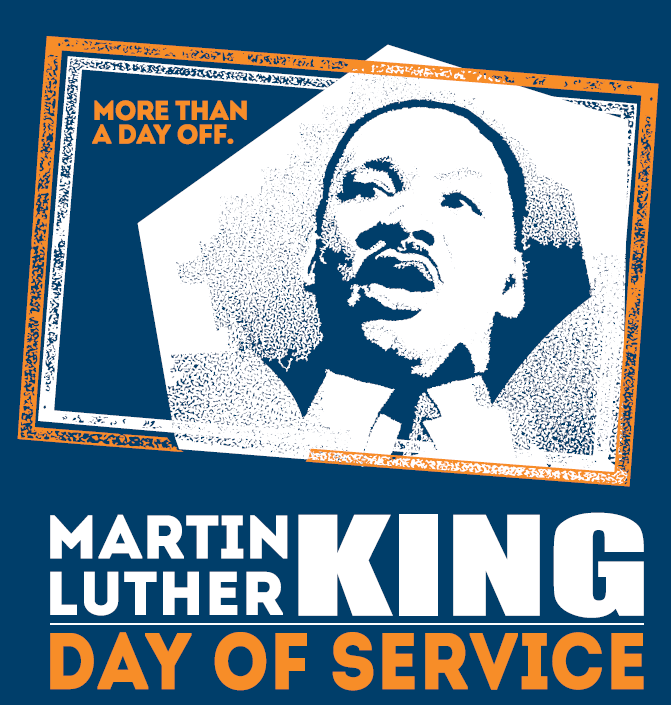 Martin Luther King, Jr.'s birthday is January 15. Our nation observes it on the third Monday of January, which this year is January 17, 2022. Each year, the MLK Day of Service inspires hundreds of thousands of Americans to come together to serve their community. Citizens in all 50 states deliver meals, refurbish schools and community centers, and collect food and clothing. Volunteers also recruit mentors, support job seekers, build homes, and provide other services for veterans and military families, and help citizens improve their financial literacy skills. Our nation's leaders, including congressional members, governors, and mayors, honor Dr. King's legacy through service projects while addressing pressing community needs.
---
Volunteer Alexandria invites you to our Martin Luther King Day of Service discussion: "Activating Service That Knows No Boundaries," Monday, January 17 from 6 to 7 p.m. Alexandrians are invited to share their experience and ideas with service to support our community and neighbors. Click HERE to register.
---
Sorry, but this opportunity has filled up. Come join us for a clean-up at Four Mile Run, from 10:00 a.m. to noon on Monday, January 17, to help commemorate the life and legacy of Dr. Martin Luther King, Jr. Advance registration is required. There is a limited number of slots available due to physical distancing. Equipment will be provided. Dress for the weather and bring your own water bottle and a face covering.
---
Join the SINE Network as they convene for MLK Beloved Community Convergence. This mix of online sessions and on-the-ground projects includes the Weekend of Service (January 14 - 17), the MLK Birthday Celebration (1/15), Day of Service (January 17), and MLK 40 Days of Peace (through February 27). An on-line convergence is a multi-day, multi-track, multi-session event that offers participants a way to contribute their gifts in Zoom sessions, as well as connect with other attendees to build alliances for the journey ahead. There will be a closing on-line convergence the last weekend of February, the 26th and the 27th.
Click HERE for more information and to register.
---
The National Park Service and the Friends of Dyke Marsh are hosting a park clean-up and invasive species removal. They are looking for volunteers to help on January 17th from 10 a.m. - 12 noon at Belle Haven Park. Registration and more information can be found by clicking HERE.
---
ALIVE is collecting food and reusable bags for a drive on MLK Day of Service Congregrational Food Drive and Reusable Bay Collection. They are collecting at 5 different locations between January 14 throught 17th. Click Here for a complete list of locations and acceptable food donation items.
Other Volunteer Opportunities to Serve Your Community from Your Own Home:
Share your efforts from MLK Day with us by tagging us on our social media platforms! Facebook: @VolunteerAlexandriaVA Twitter: @Volalex Instagram: volunteeralexandria
As Dr. King said, "Everybody can be great, because anybody can serve. You don't have to have a college degree to serve. You don't have to make your subject and verb agree to serve. You only need a heart full of grace. A soul generated by love."