COVID-19 - Care for Community
Supported by The Jen Walker Team
Volunteers are still needed and please read this before you register. Volunteer Alexandria is committed to taking every precaution to ensure the health and wellbeing of our volunteers. We follow the guidelines form the CDC and the Alexandria Health Department. As of now, excluded are volunteers who are at high risk of severe disease (or who have someone in their household who is high risk); this includes persons who are age >65; have underlying heart disease or lung disease, diabetes, liver disease; are immunocompromised, on dialysis, or have severe obesity with BMI > 40. If you experience the most common symptoms (coughing, fever of over 100.4 degrees Fahrenheit and shortness of breath) call your health care provider before visiting to discuss whether you should come in for an exam. Again, please review the Volunteer Guidelines.
As a participant of a volunteer opportunity, you understand that you may come in contact with COVID-19 or other environmental factors. Volunteer Alexandria is referring/connecting individuals to volunteer opportunities through its database; but is not directly conducting or staffing these activities. Volunteer Alexandria is not responsible for actions that occur during, or as a result of, any volunteer opportunity. By accepting a referral to a volunteer opportunity, the participant hereby agrees to release from liability, indemnify, and/or hold harmless Volunteer Alexandria and/or its officers, employees, agents, contractors, and/or attorneys from any and all liability, claims, demands, actions or causes of action, of any kind, including all damages, costs and attorneys' fees, arising from any injuries to my person, body, and/or property that occurs during the time that the participant volunteers as a result of a referral from Volunteer Alexandria.
If you are healthy and ready to volunteer, please take measures and bring your own sanitizer, wipes, and keep distance from other people. Volunteers must wear a cloth face cover and gloves to any project. Click HERE for details how to make a mask.
Thank you to everyone who has given time and/or money to support us. We couldn't do what we do without you! We collected a few stories about our wonderful volunteers - thanks to Nancy from HEARD. Click here to read them.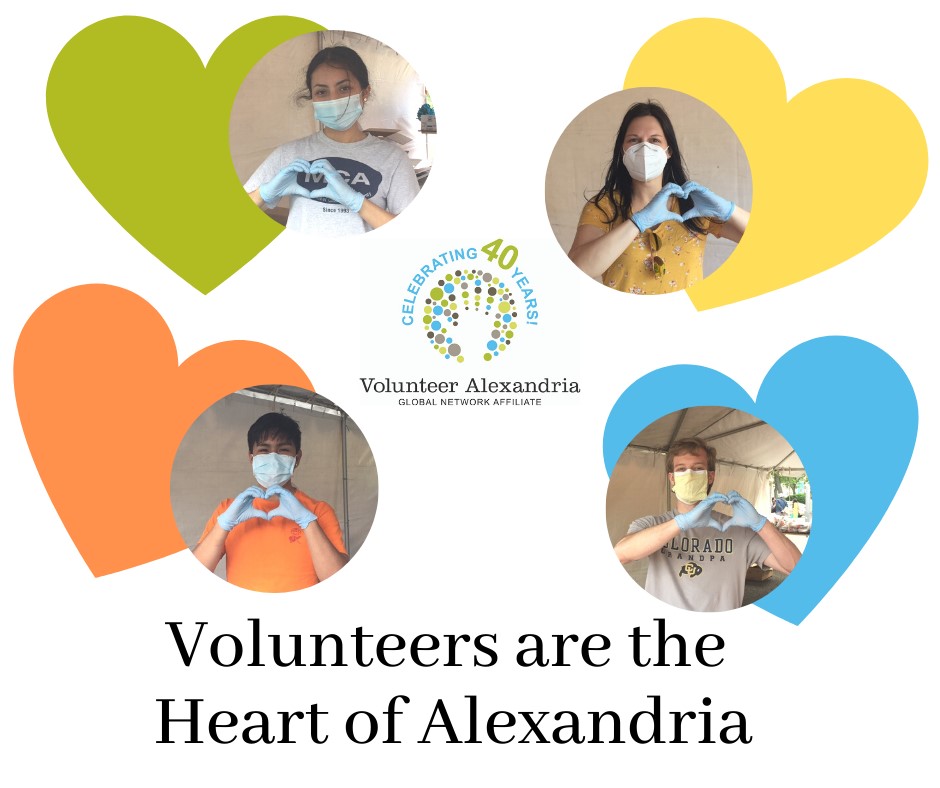 CURRENT NEEDS - In-person and Remote Opportunities:
Check out the in-kind needs. Review where we need volunteers tomorrow, this or next week HERE.
I can be a Ready-to-Go Volunteer - Register HERE. Ready-to-go volunteers will be alerted as needed to fill in where needed.
VOTE! Help at the polls - for details and to register, click HERE.
The Census Bureau is conducting a Mobile Questionnaire Assistance pop-ups. They are in need of volunteers who can speak Spanish, Amharic, French, Arabic, and Farsi to assist them with providing directions to residents while completing the Census - Register HERE.
Building Momentum has started a program to help provide students with desks for free to help students during virtual learning at home. Volunteers ages 14+ are welcome (minors under the age of 16 must have an adult be present) to assemble these desks. Volunteers will be asked to lift, bend, and work with supplies/tools during the shift. - Register HERE.
At Home Alexandria is looking for volunteers to help with their driving needs. Volunteers will be asked to help take seniors to appointments and to the grocery store. There are contactless opportunities available, for instance, pick-up/deliver groceries and/or prescriptions. Volunteers must have their own car, must show proof of valid auto insurance, and pass background check. Ages 21 – 64 are welcome to volunteer. Most driving needs are Monday through Friday during the day and/or early evening. Schedules are flexible - Register HERE
ALIVE! needs volunteers to help to prepare for mass food distributions in their warehouse. On Call Warehouse Workers - Register HERE. Grocery Bag Packers and Restockers - Register Here.
ALIVE! is hosting their Truck to Trunk event October 31st and is need of volunteers to help drive truck, translate, control traffic, and distribute food. Volunteers are needed at two locations:
Casa Chirilagua needs volunteers for various tasks. Volunteers are needed to help collect, sort, organize, and distribute donations. Volunteers are also needed to help at their fresh food distribution events as well as help tutor children virtually during their Kids Club program. To learn more click HERE.
Volunteers Needed to Help Students with Virtual Learning - Nonprofits are looking for volunteers to assist and tutor students. As the 2020 school year is about to start and students are getting ready for virtual learning, nonprofits are getting ready to support students and parents who are not able to learn from home. Volunteers will be assigned to an agency according to their availability and need of agency. After expressing interest, Volunteer Alexandria will be in touch about the next steps, collect schedule/availability, etc. Please register online if you are interested in helping students with virtual learning, while parents are working.

Senior Services - Seeking volunteers to deliver meals to seniors on a weekly basis. A new route was just created. Volunteers needed to help make those deliveries. Pick the day of the week that works best for you - Register online. If you wish to help deliver meals and cannot commit on a weekly basis, considered being added to the "on-call" list - Register Here.
Meade Memorial Episcopal Church is need of volunteers to help with their Saturday hot meal food distributions, computer lab instructors, donations, and volunteers to help with check in, etc. during their computer classes. Click HERE to find out more details.
Volunteer Alexandria - Seeking volunteers to sew masks for children. These masks will be distributed to agencies working with children - register online.
Good 360 - Seeking volunteers for a consistent schedule to help connect resources to nonprofits locally in Alexandria and across the globe - register online.
Wright to Read - Seeking volunteers to help tutor and mentor students. Register online.
Catholic Charities Diocese of Arlington - Volunteers are needed to make care packages for those in need. Register online.
Computer C.O.R.E - Volunteers are needed to teach computer skills to students (age 18+) virtually Register online.
CRi (Choice. Respect. independence.) - Need volunteers to help sew home made masks - register online.
Take a "Until Help Arrives" class to learn how to save lives. November 9th (6:00 - 10:00 PM) & November, 14th 9:00 AM -1:00 PM. Register online.
Senior Services of Alexandria – Seeking volunteers to shop for and deliver groceries every other week to home-bound seniors who live within the City of Alexandria. Register online.
New Hope Housing - Needs volunteers to cook meals. If you cannot prepare the meals, please consider ordering catering from one of Alexandria's local restaurants. Then drop meals off at New Hope Housing's Mondloch House shelter. Register online. Make sandwiches for homeless individuals for two shelters. Register online.
The Salvation Army - Needs people to create care packages at home for seniors and vulnerable populations. Register online.
American Red Cross – Due to urgent need, additional appointment slots and expanded capacity have been added at many community blood drives to ensure ample opportunities for donors to give. Make an appointment by visiting RedCrossBlood.org or calling 1-800-RED CROSS (1-800-733-2767).
Inova Health System is looking for individuals who have recovered from COVID-19 to donate plasma (colorless fluid part of blood) to help treat patients sick with COVID-19 disease. Please check to see if you meet the criteria and qualifications to be a donor.
Questions? Email Volunteer Alexandria or Courtney McEllen, Volunteer & Database Manager