Breaks With Impact -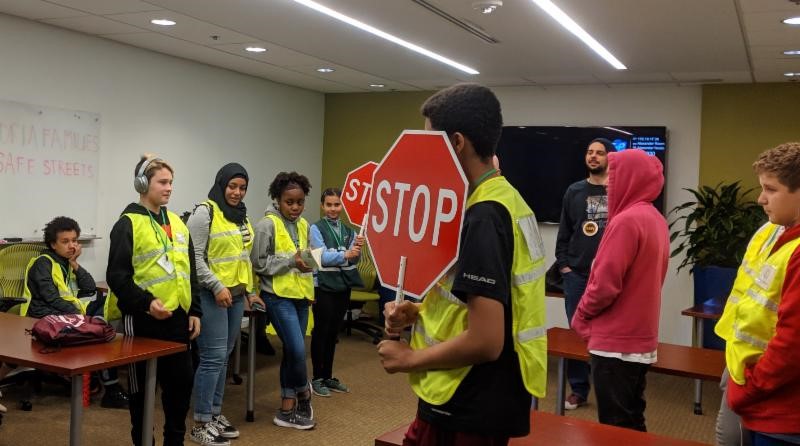 Doing Good in the Neighborhood, an after-school service-learning program for middle and high school students
Service learning program…in Alexandria! "It really opened my eyes about the problems in Alexandria," says a program attendee after her three-day experience.
This program for youth is focused on community engagement. Participants will learn more about social issues facing Alexandrians and how nonprofits address these issues, earning direct service hours and service learning hours
Spring 2020 Online Program Sessions:
Volunteer Alexandria is teaming up with area organizations to provide free, online service learning sessions. During the Spring Online Program Sessions, the students will virtually meet with nonprofit leaders and representatives from government agencies to learn what they do and how to get involved in their own community through a project. It's open to students, grade 6 through 12. Below are the directions to join:
You will be sent a Pre-Program Survey through the e-mail provided, which must be completed by each student before beginning any webinar.

A link to access the webinar will be sent to your email at least 24 hours before the webinar begins.

Following the conclusion of each webinar, students will be e-mailed a link to complete their reflection. Reflections will be due approximately one week after the webinar.

Once submitted, students receive 1 service learning hour.

If it involves a follow-up activity, students will receive 2 hours (1 direct service and 1 service learning hour).
Breaks With Impact 2020 Spring (click on the link to sign-up)

Date

Topic

Organization

Time

Tuesday, May 5

Neighborhood Health

2pm - 3pm

Thursday, May 7

2pm - 3pm

Tuesday, May 19

2pm - 3pm

Thu, May 21

2pm - 3pm

Tu, May 26

2pm - 3pm

Thu, May 28

2pm - 3pm

More coming soon!
In addtion the these sessions, we also are running the BWI Service Challenge (click below on the Service Challenge)

, an interactive call to service where students select a nonprofit/government agency to help or an issue effecting their community. Then, students develop and implement a plan or project to help address the issue, raise awareness of an issue (i.e. video, petition, poster campaign, public service annoucement) or do something that benefits an organization. Once complete, students submit their piece and the Volunteer Photo Release Form to Volunteer Alexandria by

Sunday, May 31

and receive a "Certificate of Service." Students will be eligible for service learning hours after completion. For more details, click below:
Click here to learn more about our Service Challenge
Save the Date for the Summer Program:
Have your children serve during school break! Spend one day or three days learning more about the issues that Alexandrians face and how nonprofits address those issues. They will discover how they can make a change in Alexandria. Lunch and snacks are provided.
Read our Frequently Asked Questions. Hear what the Program Manager has to say about the program.
Middle School:

High School:

June 29-July 1, 2020

Register online

June 24-26, 2020

Register online

July 28, 2020

Register online

July 30, 2020

Register online

Aug. 26-28, 2020

Register online

Aug. 31-Sept. 02

Register online
This program is partial grant funded throught the City of Alexandria's Fund for Human Services, and Cabot Creamery and many individuals like you.
Summer 2019 Program Summary: 40 middle and high school students participated in the Breaks With Impact service-learning program and here is what some of them had to say: "I enjoyed learning about being safe while also having a interactive experience with pedestrians. I also enjoyed learning about other people's stories. I didn't enjoy learning about people's struggles but it is a part of life." "How we can help people in a lot of more different ways than I ever imagined." "I enjoyed helping people in any way possible." "I enjoyed learning about the different nonprofits in Alexandria and how I can help volunteer in my community. I look forward to finding new non profits to help or getting more involved with the ones we looked at."
Starting around 8:00 a.m., students had a full day of meeting with nonprofit leadership, clients, learning about their work and ways they can be involved. Students walked and took buses to seven sites across the City to learn about issues Alexandrians face.