COVID-19 - Care for Community
Volunteers are still needed and please read this before you register. Volunteer Alexandria is committed to taking every precaution to ensure the health and wellbeing of our volunteers. We follow the guidelines form the CDC and the Alexandria Health Department. As of now, excluded are volunteers who are at high risk of severe disease (or who have someone in their household who is high risk); this includes persons who are age >65; have underlying heart disease or lung disease, diabetes, liver disease; are immunocompromised, on dialysis, or have severe obesity with BMI > 40. If you experience the most common symptoms (coughing, fever of over 100.4 degrees Fahrenheit and shortness of breath) call your health care provider before visiting to discuss whether you should come in for an exam. Again, please review the Volunteer Guidelines.
If you are healthy and ready to volunteer, please take measures and bring your own sanitizer, wipes, and keep distance from other people. Volunteers must wear a cloth face cover and gloves to any project. Click HERE for details how to make a mask.
Thank you to everyone who has given time and/or money to support us. We couldn't do what we do without you! We collected a few stories about our wonderful volunteers - thanks to Nancy from HEARD. Click here to read them.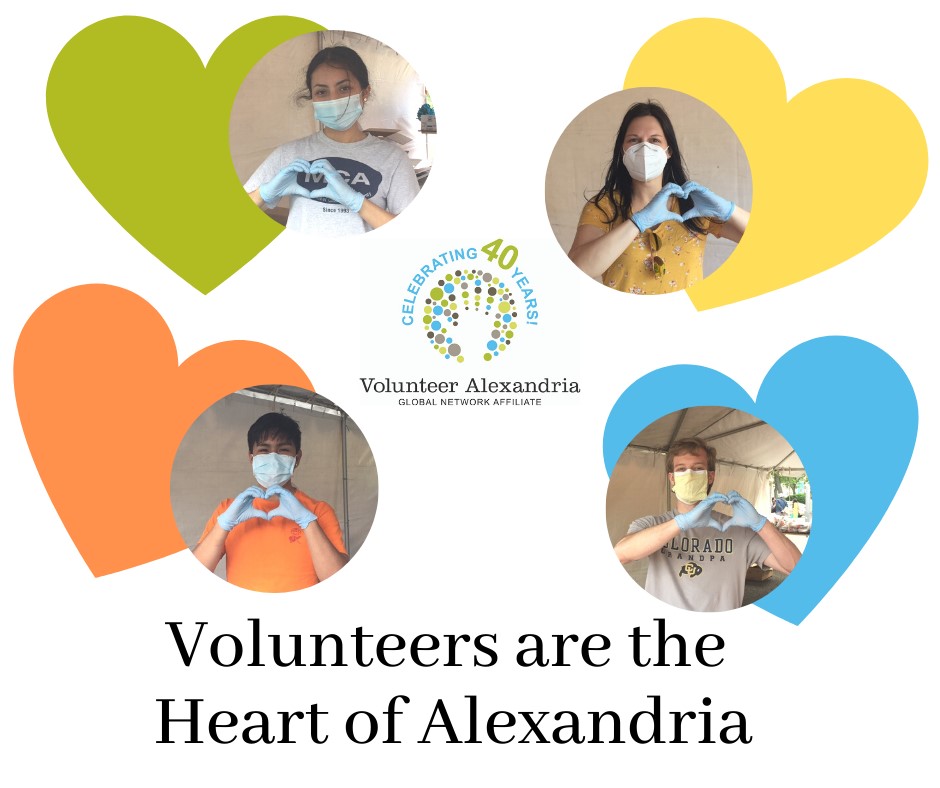 CURRENT NEEDS - In-person and Remote Opportunities:
Check out the in-kind needs. Review where we need volunteers tomorrow, this or next week HERE.
I can be a Ready-to-Go Volunteer - Register HERE. Ready-to-go volunteers will be alerted as needed to fill in where needed.
The City of Alexandria received 20,000 masks and handsanitizer from the Virginia Department of Emergency Management to be passed along to the community. Volunteer Alexandria needs volunteers to bag and prepare orders of masks for local nonprofits, testing sites, and food distribution sites. Shifts are Monday through Thursday - Register HERE. - Full. Families are welcome to volunteer together for this volunteer opportunity - Register HERE if you wish to volunteer as a family. Please note only 4 from each family can volunteer at a time.
Volunteer Alexandria is hosting a food distribution on August 24th in the West End and Arlandria areas. ALIVE has provided food to be prepackaged and bagged for this food distribution. Volunteers are needed to help sort and bag food on August 21st 9:00 AM - 10:30 AM. Volunteers are needed the day of the food distribution to translate, guide traffic, and hand out food on August 24th 9:00 AM - 12:00 PM. See below to register for tasks at one out of the two locations.
August 21st Locations to Pack Groceries/Meals:
Tasks & Location for August 24th Food Distribution:

The Census Bureau is conducting a Mobile Questionnaire Assistance pop-up on Friday, August 7th (9:30 AM - 1:00 PM) and Saturday, August 8th (3:00 - 5:00 PM). They are in need of volunteers who can speak Spanish and Amharic to assist them with providing directions to residents while completing the Census - Register HERE.
ALIVE! needs volunteers to help to prepare for mass food distributions in their warehouse. On Call Warehouse Workers - Register HERE. Grocery Bag Packers and Restockers - Register Here.
ALIVE! is seeking volunteers to help Stuff the Bus August 14th to help prepare for their mass food distribution on Saturday, August 15th Register Online.
ALIVE! is hosting their Truck to Trunk event August 15th and is need of volunteers to help drive truck, translate, control traffic, and distribute food. Volunteers are needed at two locations:
Senior Services - Seeking volunteers to deliver meals to seniors on a weekly basis - Register online.

Alexandria City School is distributing "Grab'n Go" meals to ensure our children have food. Volunteers are needed at every Monday, Wednesday, and Friday to assist with verifying orders, counting food bags, bagging prepackaged food. All volunteers will go through a screening process at arrival at each site (screening locations will be provided after registration). Volunteers will need to provide a valid form of identification. Registration will close two days prior to the designated scheduled time. (Monday's shift registration will close the preceding Friday at 3pm; Wednesday's shift registration will close Monday at 9am; Friday's shift registration will close Wednesday at 9am) Please plan accordingly. If you know you can no longer attend, please give us a two-day notice. Volunteers are needed to distribute meals at Cora Kelly ES – Register HERE.
Meade Memorial Episcopal Church is need of volunteers to help with their Saturday hot meal food distributions, computer lab instructors, donations, and volunteers to help with check in, etc. during their computer classes. Click HERE to find out more details.
Great Harvest Bread Co. is in need of volunteers to help tranport donations of bread to local nonprofits. Volunteers require their own mode of transportation. Click HERE to express interest to be a fill-in to help make deliveries.
Casa Chirilagua - Needs volunteers on a weekly basis to help with food distribution on Fridays - Register HERE.
Remote/Virtual Opportunities:
Volunteer Alexandria - Seeking volunteers to sew masks for children. These masks will be distributed to agencies working with children - register online.
Good 360 - Seeking volunteers for a consistent schedule to help connect resources to nonprofits locally in Alexandria and across the globe - register online.
Arlington County's Department of Human Services - Seeking volunteer instructors and interns to co-teach ONLINE Basic Computers, Microsoft Office Specialist, and CompTIA ITF+ classes - register online.
RAISE - Needs volunteers with parenting experience and/or a background in parenting education/counselling to support their Parent Support Text Line - register online.
Wright to Read - Seeking volunteers to help tutor and mentor students. Register online. For more information, join them at their next virtual informational meeting August 25th 6:30 - 7:30 PM - see flyer HERE for event details. Register for informational meeting HERE.
Catholic Charities Diocese of Arlington - Volunteers are needed to make care packages for those in need. Register online.
Computer C.O.R.E - Volunteers are needed to teach computer skills to students (age 18+) virtually Register online.
CRi (Choice. Respect. independence.) - Need volunteers to help sew home made masks - register online. In addition, CRi is seeking volunteers to help make sensory boards - register online.
Take a "Until Help Arrives" class to learn how to save lives. Register online for the August 8, virtual class - 9-1 p.m.
Senior Services of Alexandria – Seeking volunteers to shop for and deliver groceries every other week to home-bound seniors who live within the City of Alexandria. Register online.
New Hope Housing - Needs volunteers to cook meals. If you cannot prepare the meals, please consider ordering catering from one of Alexandria's local restaurants. Then drop meals off at New Hope Housing's Mondloch House shelter. Register online. Make sandwiches for homeless individuals for two shelters. Register online.
The Salvation Army - Needs people to create care packages at home for seniors and vulnerable populations. Register online.
American Red Cross – Due to urgent need, additional appointment slots and expanded capacity have been added at many community blood drives to ensure ample opportunities for donors to give. Make an appointment by visiting RedCrossBlood.org or calling 1-800-RED CROSS (1-800-733-2767).
Inova Health System is looking for individuals who have recovered from COVID-19 to donate plasma (colorless fluid part of blood) to help treat patients sick with COVID-19 disease. Please check to see if you meet the criteria and qualifications to be a donor.
Questions? Email Volunteer Alexandria or Courtney McEllen, Volunteer & Database Manager